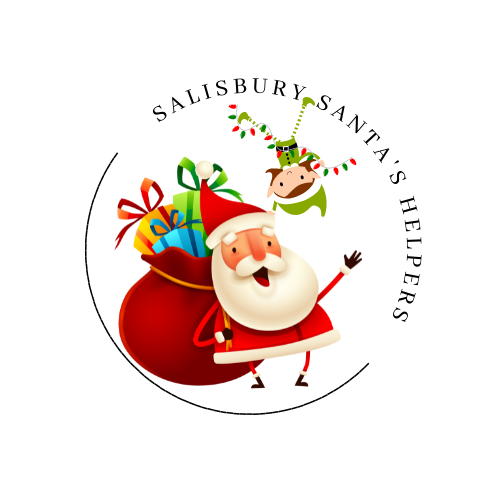 To streamline our efforts we work in partnership with the Newburyport Salvation Army.
Please visit their website: https://easternusa.salvationarmy.org/massachusetts/newburyport/ and click the "get help" link.
Please fill out a completed application and all pertinent, non-personal, information will be given to us to organize. If you are unable to access the website you can reach out to them at 978-465-0883 for assistance.
HAVE YOU HEARD WHAT I'VE HEARD?  The NEW Salisbury Santa's Helper Program has been re-established as a 501(c)(3). We are looking for sponsors to adopt a child or a family in need,  so that every child experiences the joys of Christmas in our community. If you enjoy giving and want to donate, or if you own or work at a business that wants to help, see below as we have two ways to give.
Please reach out to us at info@salisburysantashelpers.com for an Angel tree ornament if you prefer to directly shop to meet a child's needs and drop off to us and/or if you prefer to give monetarily one of our energetic elves will do all the shopping for you and make sure you are recognized on our website and social media pages. We accept cash, checks, Paypal, and Venmo.
Donations can be done by scrolling down on this website, www.salisburysantashelpers.com or mailed to Salisbury Santa's Helpers, P.O. Box 5207, Salisbury, MA 01952. Donations of new toys and children's clothing of all ages can also be dropped off at one of our many locations throughout town, check the list below.
Remember, our amazing organization is a 501(c)(3) non-profit, therefore we can send you all the tax information you need as well, with 100% of funds going directly to Salisbury families in need. With your help, we know the new Salisbury Santa's Program will take off like Santa's Sleigh for many years to come!
Happy Holidays to all!
Salisbury Santa's Helpers donation boxes are out and ready to be filled!! Boxes will be available until December 8th.
Drop your new, unwrapped gifts at the following locations:
Maries restaurant
Slicks Barber Shop
Institution for Savings (Salisbury)
Hideaway Pub
Uncle Eddie's
Newburyport 5 ( Salisbury, Newburyport, Newbury and Amesbury)
Thank you all for your continued support!!!
About Us
The idea of the Santa's Helper Program grew out of the desire of a group of moms whose children attended Salisbury Elementary School in the early 1970's to help children and families. They called themselves "The Mother's Club".
Elizabeth (Betty) Cloonan was instrumental in forming this club. Although their primary role was to aid the school with needed supplies and promote activities beneficial for students, she also recognized there was a need to help struggling families with everyday living.
Time went by, and the Mother's Club was replaced with a PTA. But Betty Cloonan's desire to help the Salisbury
Community and families in need never wavered. In the mid-1970's, she began her new endeavor, along with a group of close friends and donors who chose to remain anonymous. She named it "The Santa's Helper Program". Being
anonymous was the mantra of Betty and her helpers!
Betty's goal was simple; to provide the children in Salisbury at Christmas with items their families couldn't afford; coats, snow pants, boots, hats, mittens, and special wishes. Her one request to the volunteers was that the donated gift for each child was to be wrapped in Christmas paper and the child's name added to the tag. She wanted the gifts to be special for each individual child. In the beginning, she made home visits so that sizes and items were specific to each child in the family. As the program grew, the home visits became too much, but Betty stayed in complete control of her program. She organized and ran a successful auction every year with donated items, and a raffle, to help raise funds to supplement donations.
For the next 40+ years, the program grew with Betty at the helm. A large group of anonymous donors, organizations,
and volunteers from Salisbury and the surrounding area worked tirelessly from October 1 st to delivery day in December to ensure the success of Santa's Helpers. They shopped, sorted, wrapped, and tagged gifts for individual children; giving hours of volunteer time usually at a donated space large enough to handle the gifts and contributions. In later years, the program came to rest in a large room located in the Lower Merrimack Valley Boy and Girls Club on Maple St. in Salisbury.
When Betty was unable to continue in her role as Coordinator due to health problems, she turned the program over to a woman whose family member was one of her original volunteers, and who had been with her from the beginning. A group of several volunteers, who had spent the last 10 + years working closely with Betty, stayed with the program and continued the success of Santa's Helpers until the pandemic of 2020. At that time, Santa's Helpers, along with so many other organizations, had to shut down; but not without a lot of discussion and sadness.
Recently, the future of the Santa's Helpers Program looks bright. With the pandemic behind us, the Salisbury Lion's Club has stepped forward to take the reins and continue Betty's work. As with all new endeavors, there will be changes, but the original goal of Betty Cloonan lives on: to provide a happy and joyful Christmas for the children of Salisbury and their families.
Sponsors
Filling Santa's Sleigh
The Goat
Fiesta Shows
Newburyport Bank
Sponsor a Family
Priority Jeep
T-Golf
Mello Disposal
The Northshore Realty Group
ADC Public Accountants
Institution for Savings

 
Sponsor a Child
Clark School
Ward Construction
Interested in Donating?
Please click on the button below to donate via PayPal or your Credit card.